Overview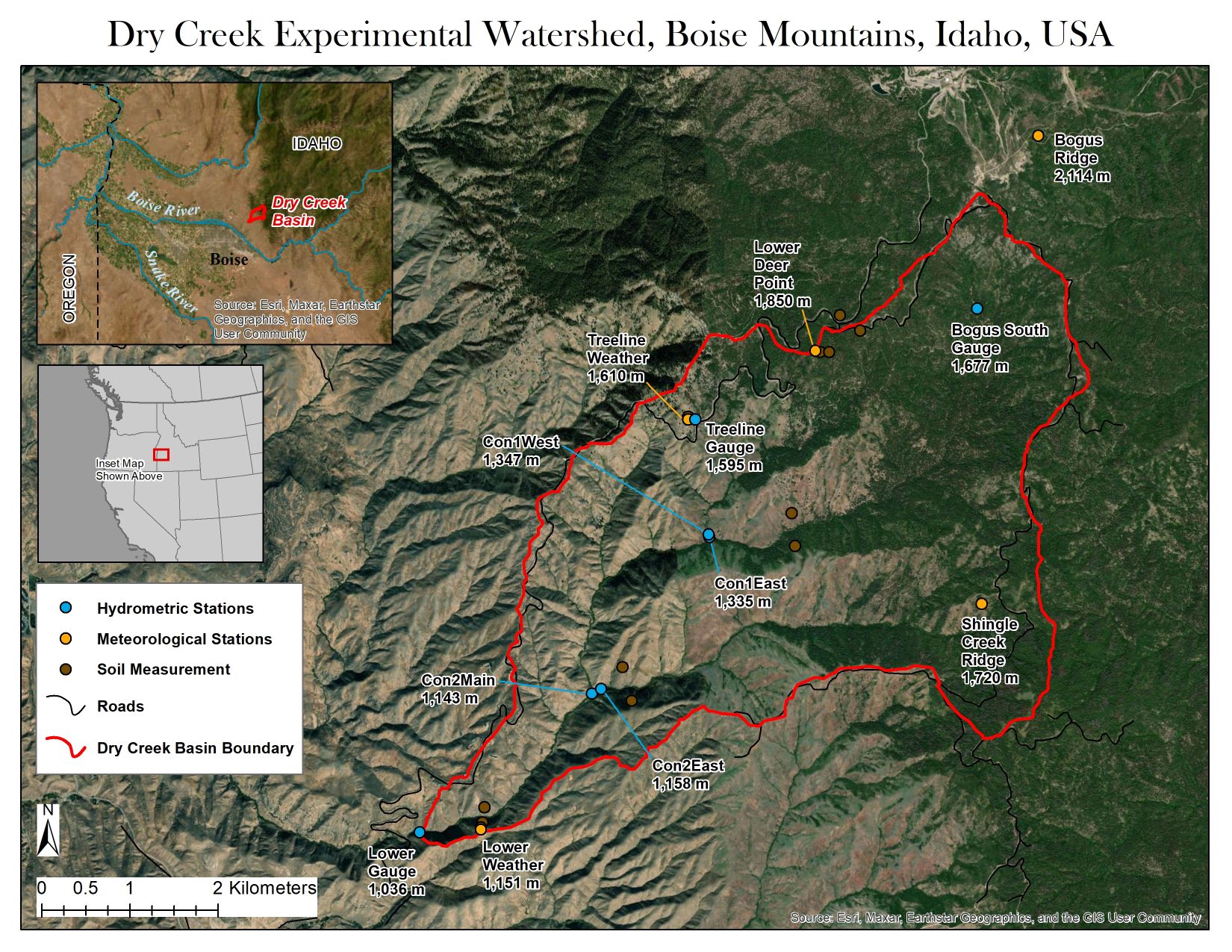 Location: Idaho, USA; 43.72°N, 116.13°W
Website: https://www.boisestate.edu/drycreek/   
Operational Management: Boise State University
Purpose/Scientific Focus: Dry Creek Experimental Watershed (DCEW) is a laboratory for research and education in watershed sciences operated by Boise State University. The mission is to provide temporally continuous and spatially distributed hydrometeorological and geographical data from point to watershed scales for researchers and educators. 

Environmental transitions from dry lowland grasslands to the snowy upland forests in the DCEW offer opportunities to investigate interactions among hydrologic, geologic, and ecologic processes and properties in the mountainous rain-snow transition zone characteristic of much of the semiarid western United States. 

  
Characteristics
Location (Physiographic Region): Located in the Boise Mountains of Central Idaho approximately 16 km northeast of the city of Boise, Idaho. 
Area: 26.7 km2 
Elevation: Min. 1,036 m to Max. 2,136 m  
Description (Physical–Ecological–Climatic Characteristics): 

The surrounding area is defined as the Boise Front which includes mountainous and foothills topography. The landscape in the area is typified by moderately steep slopes, and strongly dissected by streams. 

Winters in this region are moderately-cold to cold and produce abundant precipitation in the form of snow in the highlands and rain in the lowlands. The spring season begins with cool rainy months followed by drier warming trends approaching the summer months. Summers are typically hot and dry with occasional thunderstorm events. The autumn season is typified by clear and warm months initially but changes to cold and moist months immediately prior to early winter. Precipitation is greatest December through February. The average monthly temperatures are greatest in July and lowest in January. Evapotranspiration exceeds precipitation most of the year.  See https://www.boisestate.edu/drycreek/watershed-desciption/ for more details.
Drainage/River System: Dry Creek is a headwater tributary to the Boise River, which flows to the Snake River, part of the Columbia River system in western North America.
Site History/Historical Context: 

Established in 1999 to investigate hydrologic processes in the semi-arid southwestern region of Idaho, USA.

Main Land Cover(s):

Vegetation along the Boise Front varies with elevation, geology, microclimate, soil type, and topography. At lower elevations, grass and shrublands, ponderosa pine (Pinus ponderosa), and Douglas-fir (Pseudotsuga Menziesii) occupy south and west aspects and Douglas-fir forests dominate north and east aspects. Upper elevations are dominated by ponderosa pine and Douglas-fir forest communities with patches of lodgepole pine (Pinus contorta) and aspen (Populus tremuloides). Middle elevations range from grass and shrublands to open forest communities of ponderosa pine and Douglas-fir and function as an ecotone between the sagebrush (Artemisia spp.) and grass dominated lowlands and more densely forested uplands.

Lithology/Soils:

The DCEW is located over a granitic batholith and the dominant rock unit is biotite granodiorite. The biotite granodiorite consists of medium- to coarse-grained rocks, is light gray in color, and is composed of plagioclase, quartz, potassium feldspar, and 2 to 8% biotite. The local soils are divided into three general soil taxonomies – Argixerolls, Haploxerolls, and Haplocambids. The soils range from loam to sandy loam in texture and have high surface erosion potential.

Mean Annual Temperature: 
Mean Total Annual Precipitation: 
Snow Characteristics: 
Years of Data: Data are avaialble since 1999 
Stations & Observations
Observational Stations and Sites
Field Observation Campaigns and Other Measurements
Measurement
Instrument Description
Spatial/Temporal Resolution and Coverage
Notes/Details
Terrestrial Laser Scanner
UAV Sensors
Time-lapse Photographs
Snow Pits/Snow Surveys

Notes

See 
Data Availability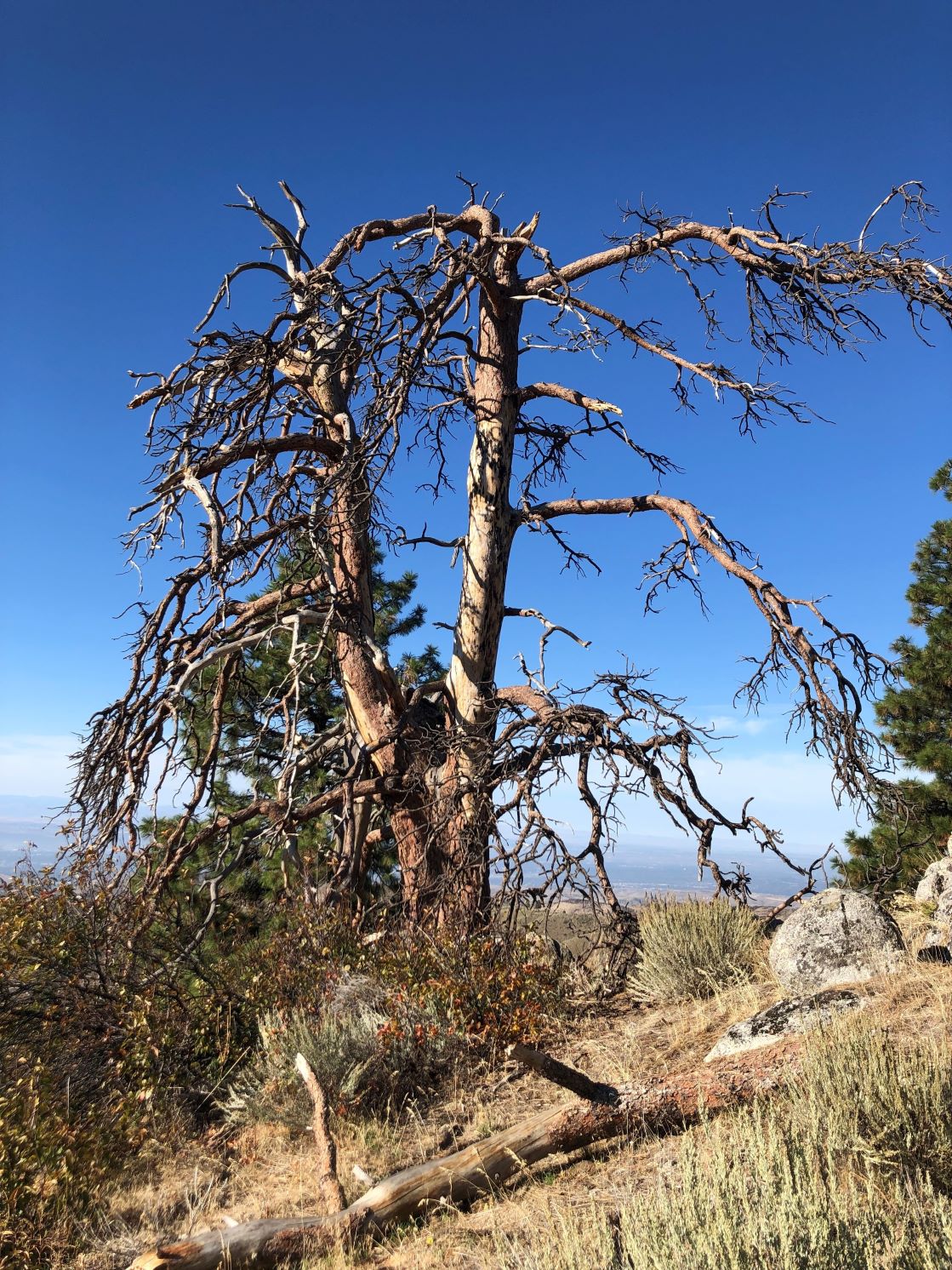 Geospatial Data
Elevation
10 m DEM for rectangle surrounding DCEW and cropped to watershed boundary
Landcover and Soils
Vegetation and terrain derivatives available 
Stream/River Network
Stream network shapefile is available
Basin Delineation/Shapefile
Basin shapefile is available

Notes
Observational Data Availability 
Contact & Further Information
Additional Information (Key Papers)
Contacts